We make the world understandable.
Translate any text into easy language with our AI-powered tool – fast, inexpensively and totally easy to use.
That's how we offer easy language – easily made.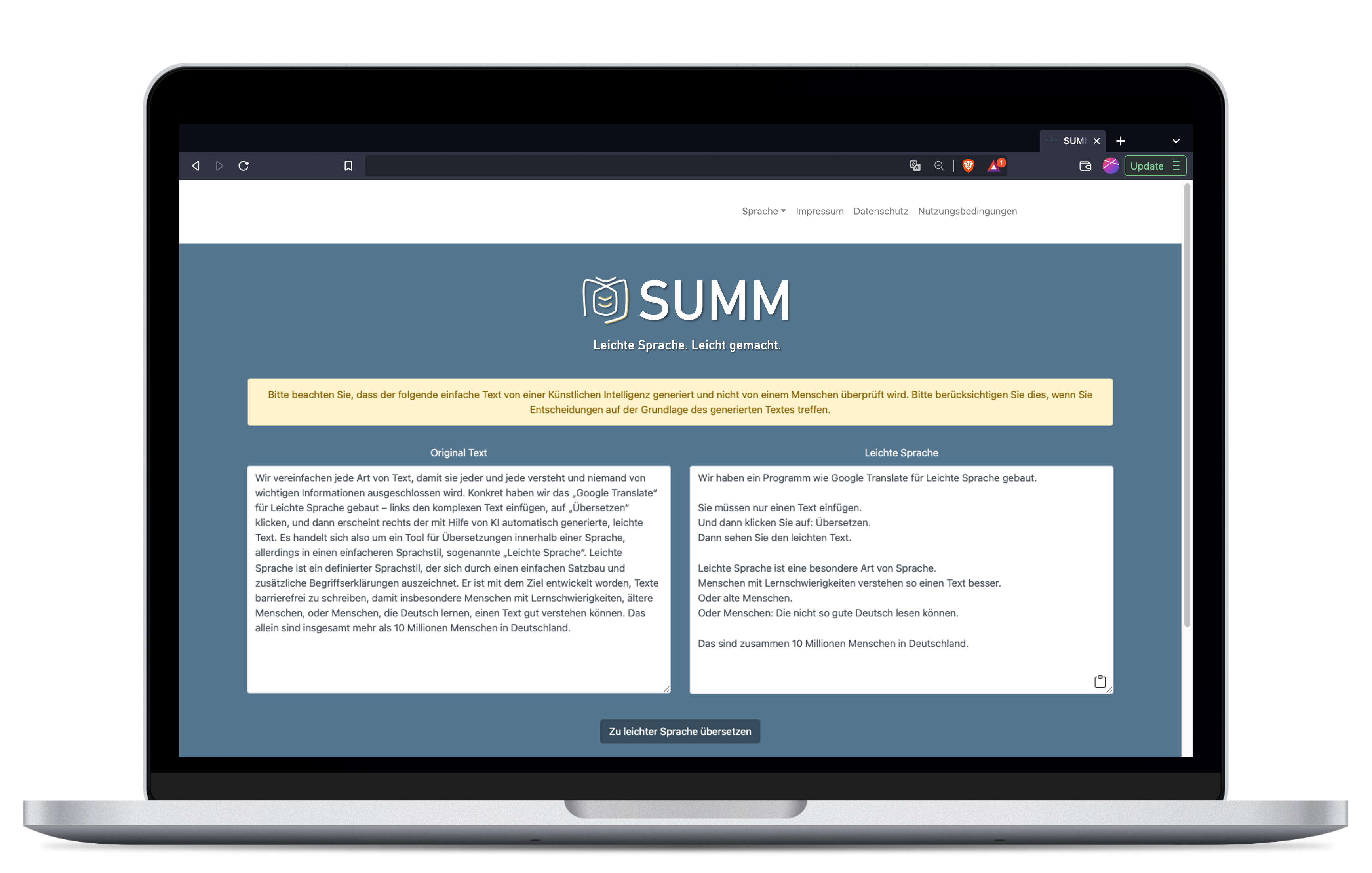 FAST
Generate a text suggestion in easy language at the click of one button and review it in seconds
INEXPENSIVE
Offered with an individual usage and pricing model adapted to your translation needs
EASY TO USE
Intuitive features and functionality developed based on continuous user feedback
A large target group
In Germany alone, more than 10 million people require text in easy language to access crucial information and successfully navigate their daily lives. Easy language is a defined language style with simpler sentence structure and additional explanations.
The audience of texts in easy language includes for example people with learning difficulties, elderly or sick people, or people learning German as a second language. All the more important that as many texts as possible are available in easy language!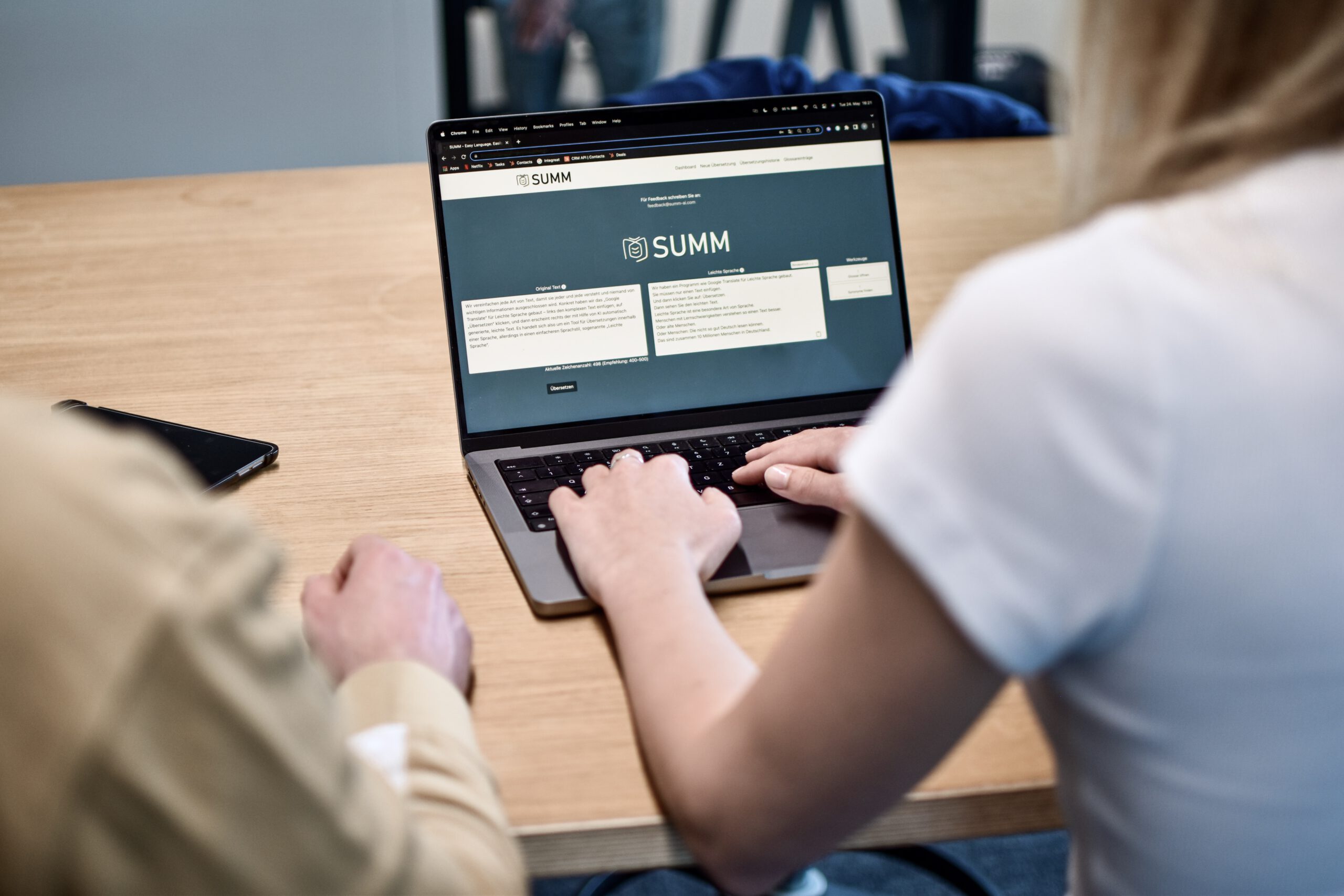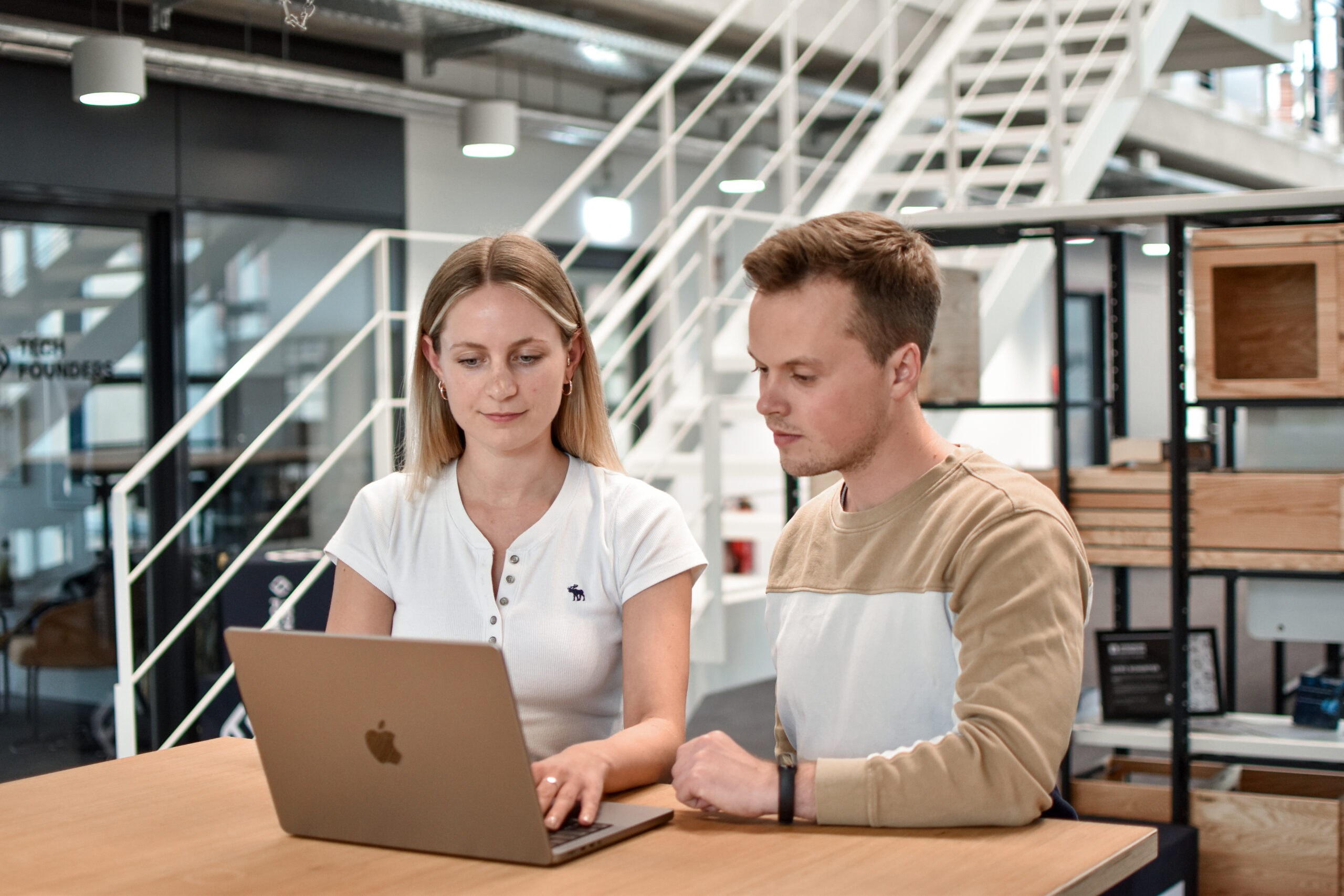 Fast, inexpensive and easy to use
That's why we have developed SUMM, the first AI-powered tool that automatically translates any text into easy language! We are certain that this is the way to enable cognitive inclusion and digital participation: With a fast, cost-effective and straightforward way to offer any text in easy language!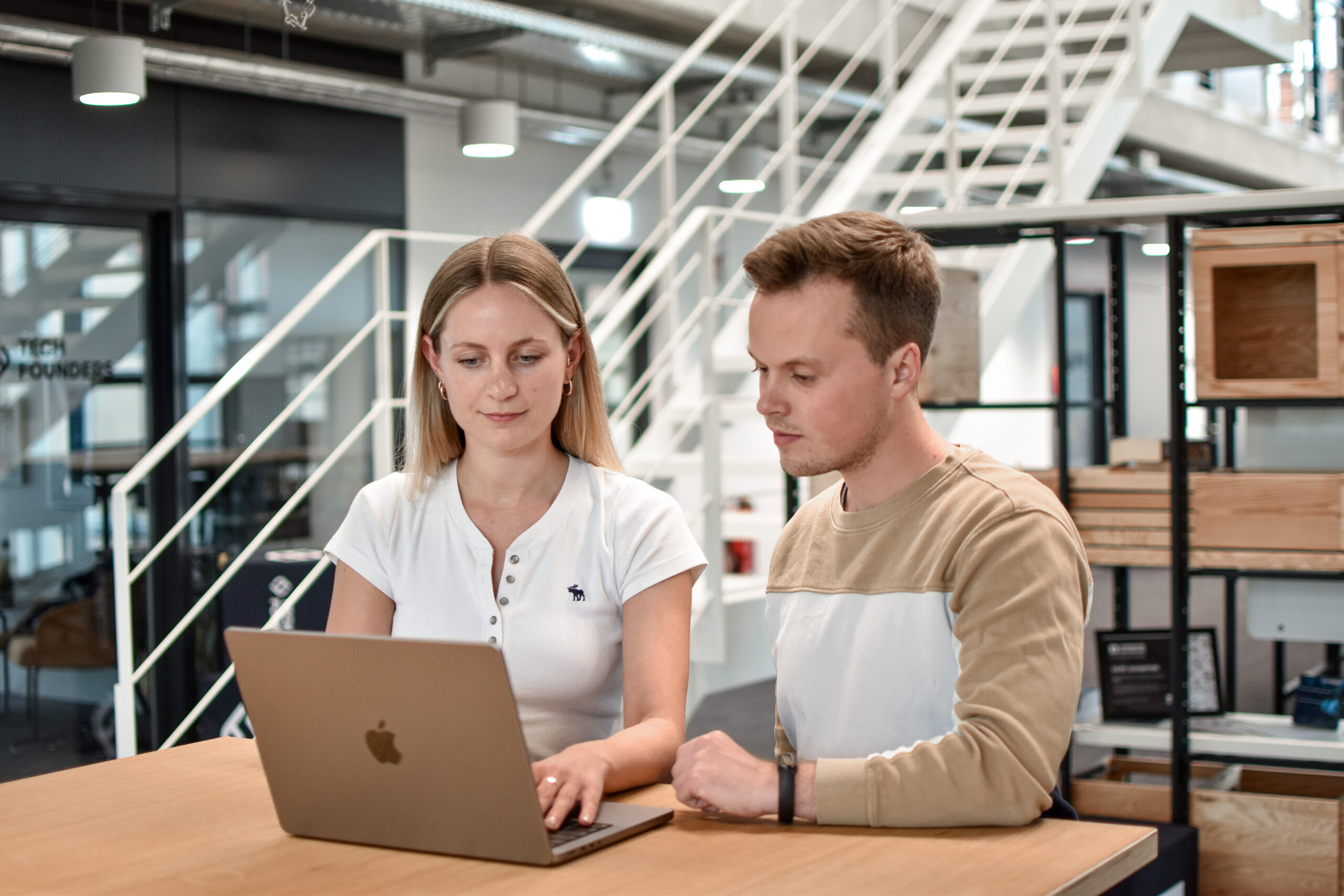 Our tools for easy language
SUMM is our AI-powered tool that automatically translates any text into easy language: You paste your text into our tool, click on "translate", and receive the easy version on the right in seconds – very easy!
That's how we can decrease your translation effort by more than 2/3!
We support you with AI-powered text suggestions in your translation process!
Our suggestions enable you to quickly overcome difficult text parts. Furthermore, we support you with complementary features such as a glossary for concept explanations to speed up your translation process – conveniently, directly integrated into your text editor.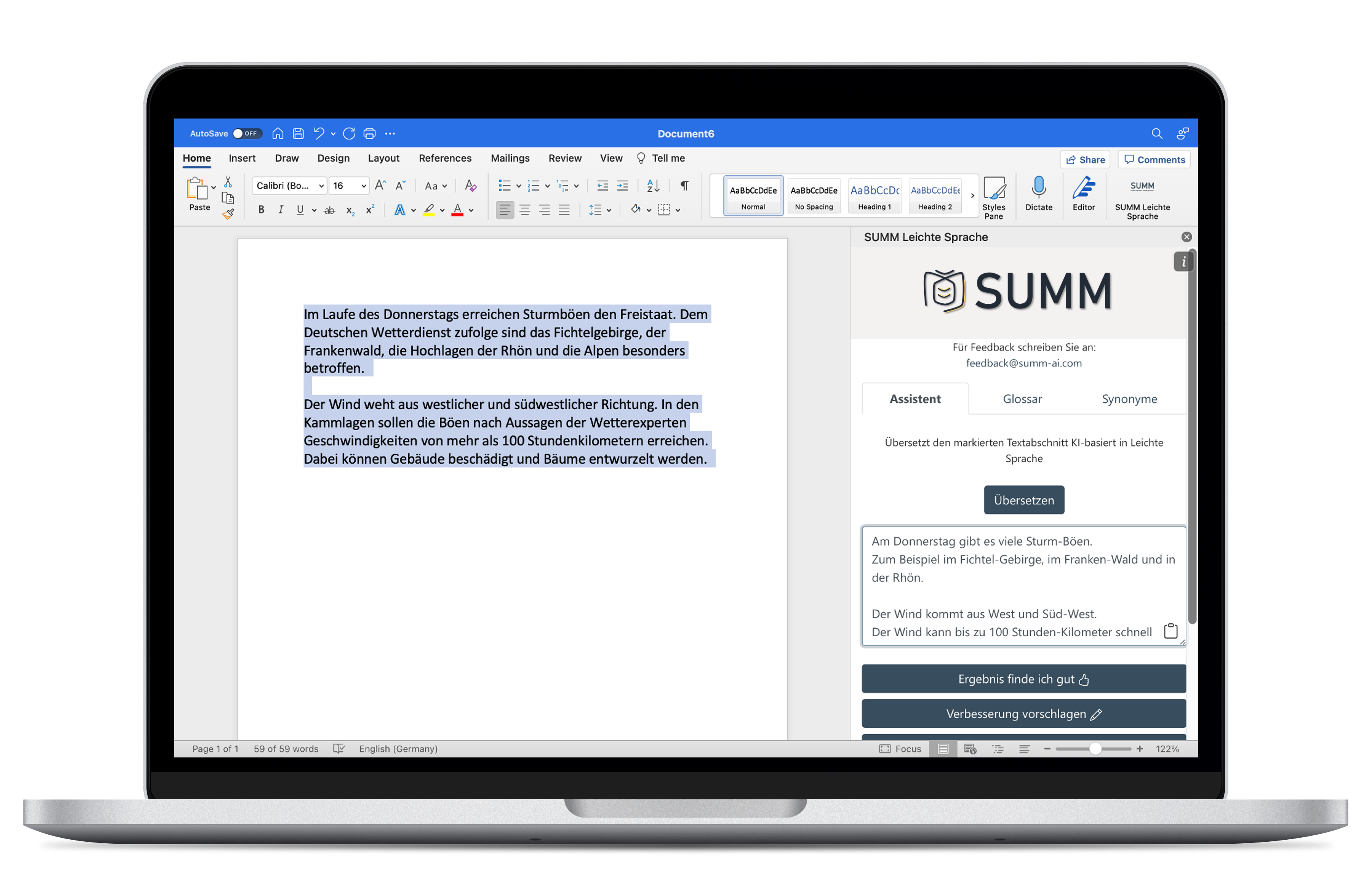 For companies and institutions
We support you with a fast and inexpensive opportunity to make your content easily understandable. Together, we develop a custom, AI-powered solution specifically tailored to the topic of your content!
Contact us today to find out how our tool can make your texts understandable for your customers or employees.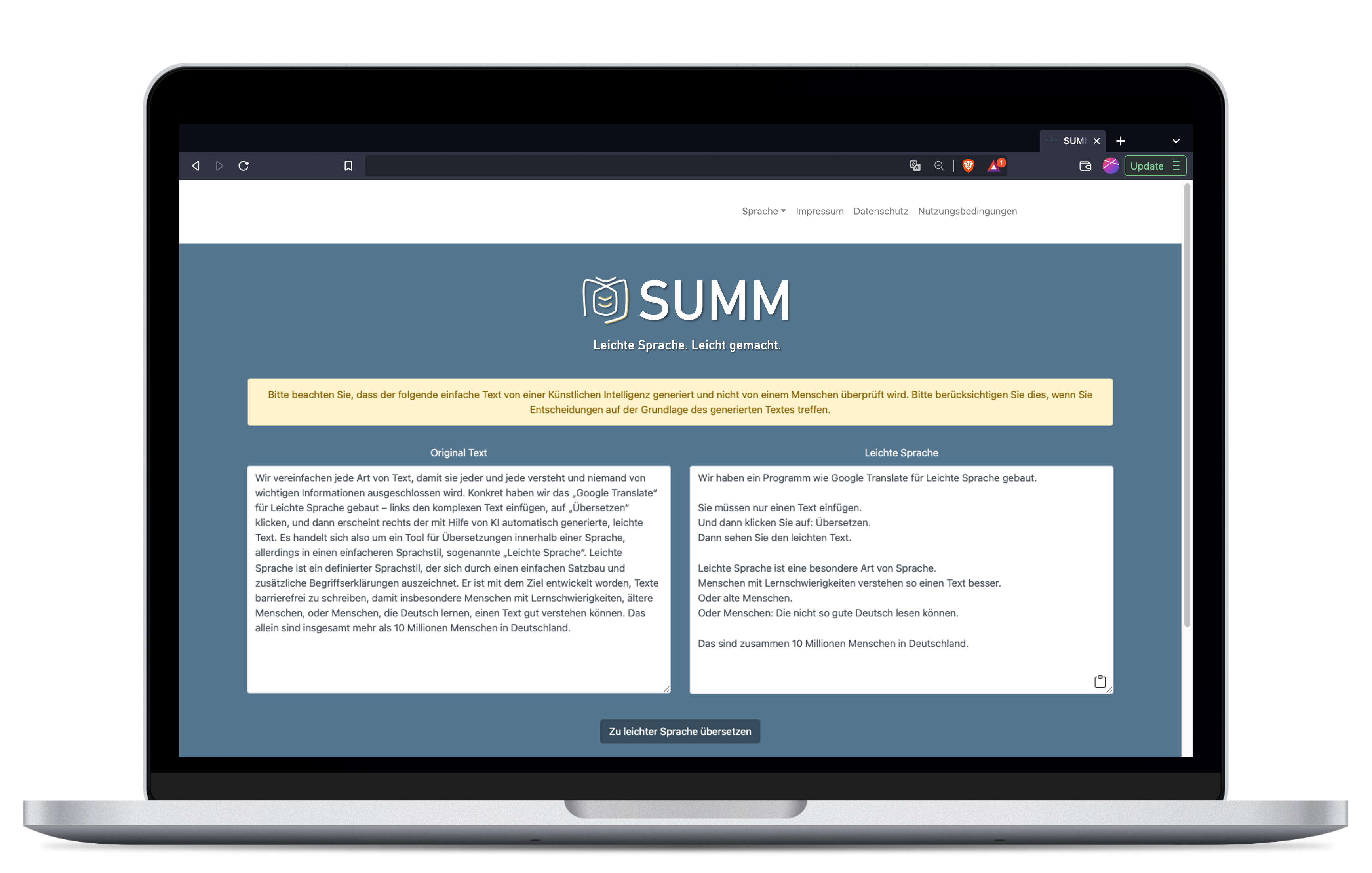 Our diverse team – 3 co-founders and 3 team members – is united by our great passion for natural language processing!
We are graduates and students of the Technical University of Munich (TUM) – hands down the best place to found a tech startup. Although Munich brought us together, we come from all over Germany (and even the world) and have different backgrounds – for example Math, Computer Science, and Business.

Sign up for a free trial!
Register below for a free trial of our tool and become part of our movement for inclusion and digital participation!

SUMM AI GmbH
Faberstraße 8c
81373 München